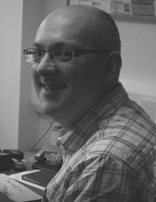 Brian joined Total Marketing Solutions as a Consultant in 2007. He brings with him significant expertise in customer acquisition through all direct marketing channels, with particular focus on online marketing.
Brian has joined us from Suttons Consumer Products, where he was involved in marketing brands including Suttons Seeds. His strong client-side experience and hands-on approach to generating tangible results is proving a real asset to customers.
Educated in Ireland, Brian has an MBA from London Guildhall University. He is also a member of the Institute of Direct Marketing.


Summary Profile
Brian's particular expertise lies in internet and Web 2.0 marketing strategy development. He has designed and implemented a range of Search Engine Optimisation and Papy Per Click campaigns for clients, enabling them to maximise the results generated by their online marketing activities.
Sample Consultancy Assignments

Catchpole and Rye - development and implementation of a strategic internet marketing strategy and ongoing campaign.
Bak-Eze - development of new consumer product launch, including launch of new website and management of online marketing campaign.
Suttons Consumer Products - ongoing development of Suttons' web marketing activities, including management and ongoing refinement of their Pay Per Click campaigns.
Click here to contact Brian.