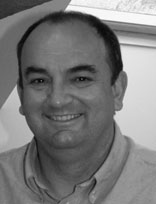 Mark is the Managing Director of Total Marketing Solutions.
Prior to founding the business in 2004, Mark held a number of senior marketing roles in both large multi-national organisations such as Kingfisher and Inchcape PLC as well as working for SMEs such as SFI and Hemsley Fraser.
He has worked in marketing as both a consultant and client-side across a number of different industry sectors ranging from retailing to business services both in the UK and internationally.
Within the UK, he has worked to support clients in both the private sector and the public sector and he is skilled at working at Board Level and with owner managers to develop and deliver effective marketing strategies.
Mark has an MBA in Marketing from Bradford University; he is a Fellow of the Chartered Institute of Marketing as well as being a member of the Institute of Business Consultants and a Chartered Marketer.
Summary Profile
Mark has worked in senior marketing positions for over 13 years, the last four years as Managing Director of Total Marketing Solutions. Mark has held Board level responsibility for marketing in large corporate organisations and he has also worked in an SME environment, giving him a well rounded understanding of all aspects of marketing strategy, planning and delivery. He has a particular expertise in developing and implementing marketing strategy, an expertise that he has been able to apply on behalf of a large number of clients since forming TMS.
Sample Consultancy Assignments
Sysmex UK Ltd. Strategic review of customers, markets and existing business development strategy, leading to major re-engineering of sales and marketing processes, training and marketing communications activities.
Technical Resources Ltd. Development and delivery of a 3 year marketing strategy and project management of all related marketing activity and budgets. Enabling sales growth of more than 30% pa.
Forestry Commission. Delivering a feasibility study to assess the potential of the South West's woodlands to be used as a resource for off-road cycling and developing a number of different scenarios for future funding applications.
Pepper Communications Ltd. Development and delivery of a rolling 12 month marketing plan and project management of all related online and off-line marketing activity and budgets. Enabling annual growth in turnover of more than 35%.
Summary of Experience
Mark has experience of working at a strategic level on marketing projects in both the public and private sector. He has worked with large corporate clients and a wide range of SME's, covering many different sectors of industry.
His expertise as a consultant lies in developing robust marketing strategies and marketing plans that deliver measurable results for clients. Mark has experience of all aspects of marketing planning and the market research required to support the planning process. He also has particular expertise in developing online marketing strategies for clients of TMS. He is experienced at project managing the delivery of all aspects of marketing communications activity from exhibitions and events through to branding projects and above-the-line advertising activity.
As a consultant, Mark is particularly skilled at quickly establishing strong and effective working relationships with his clients and at helping them to think strategically about how they approach all aspects of marketing and customer development.