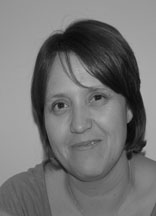 Melanie has recently joined forces with Total Marketing Solutions as a Strategic Marketing Consultant, bringing her passion, creativity and sound marketing expertise to complement the existing team.
Melanie is a professional and creative marketer with a background in the service sector, having worked with a range of blue chip and SME companies. She has worked as a consultant since 2006, providing strategic marketing and market research skills to a wide range of clients within both the professional and services sectors, including the NHS, charities, local authorities, associations and professional services companies. As an experienced service marketer, Melanie brings to the team extensive knowledge in developing customer experiences and a profound understanding of their importance in the development of an effective overall marketing strategy.
Melanie has an MA in Marketing from Bristol Business School and holds the Chartered Institute of Marketing's Postgraduate Diploma in Marketing. She is a Member of the Chartered Institute of Marketing  and is a Chartered Marketer.
Summary Profile
Melanie has worked in various marketing positions for over 20 years, with particular expertise in developing robust marketing strategies and plans which then drive results. She has strong project management skills and the ability to communicate effectively at all levels - from developing junior marketers through to facilitating Director and Stakeholder discussions.
Sample Consultancy Assignments

Inspire Leicestershire - development of a communication and marketing strategy that promotes the 2012 Legacy. The project includes the facilitation and engagement of seven themes and multiple agencies.
BIFM (British Institute of Facilities Management) - to undertake a marketing audit of their marketing activity and to develop a comprehensive marketing strategy and plan to increase their profile and membership take-up. The strategy included all aspects of the marketing portfolio with individual plans for communication, retention and the implementation of a new marketing infrastructure and processes.
Barnsley NHS Trust - Patient Experience Programme - a project to develop a collaborative approach to improving the patient experience. The project included a service audit, patient research and ultimately facilitating a solutions workshop to make practical change and improvements to the patient experience.
ABTA - customer experience development project to understand low level of take-up of new members through the process. Redesigned the process, which led to an increase in new members of 29%.
A Rocha (environment charity) - complete review and redesign of their brand and marketing activity. Relaunch of the brand and donor communications - resulting in an increase of 30% on annual donations.
ABi - Business Services, marketing and new customer review. Redesign of their brand communications, resulting in 70% increase in take-up of events and 40% increase in brand awareness.
Summary of experience
Melanie's knowledge of marketing is both well-rounded and practical, enabling her to offer her clients a creative approach which will bring real results. She's extremely passionate about what she does and this passion is infectious - clients benefit enormously from her insight, her hands-on approach and her drive.