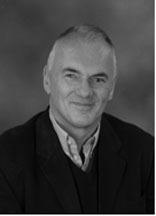 Rennie is a professional marketing consultant with an outstanding record for helping clients to develop and implement their sales and marketing strategy to achieve real results.
He offers a unique mix of both marketing and sales expertise, having worked extensively with sales and marketing senior management teams within the UK and across Europe, the United States, Central America and the Middle East.
Rennie holds and MBA from Cranfield Business School and is a Member of the Chartered Institute of Marketing.
He is also a Visiting Lecturer at Cardiff Business School.
Summary Profile
Rennie's marketing experience spans a wide variety of sectors, including banking, chemicals, automotive, construction and professional services. He has also worked with a broad spectrum of different clients, ranging from SME's to large multinationals. Following a variety of sales and marketing roles within the Ford Motor Company and British Telecom, Rennie has worked as a marketing consultant helping clients such as Royal Mail, Nokia, Experian and NatWest Bank.
Rennie is also an experienced facilitator and workshop leader and has led development programmes in most aspects of marketing, sales, account and sales management.
Sample Consultancy Assignments
Mercedes-Benz. The development and implementation of a Sales Management strategy, including an Organisation and Strategy review, the design and delivery of a sales management programme and the design of a sales programme to identify and exploit business potential.
BT Consulting. Involved in setting up CRM consultancy within BT: developed a sales strategy, positioned the Consultancy as an integral part of BT propositions offering to major corporate clients, which led to significant consultancy contracts for  BT consulting as the solutions provider.
Experian. Implementation of CRM across diverse business units, which involved the development of new processes and new ways of incorporating CRM.
Summary of Experience
Rennie's understanding of how sales and marketing work together to deliver results give him a unique mix of skills, which he uses to maximum effect to help his clients achieve real and lasting change to how their business works. Where he has helped clients develop and implement a sound marketing strategy, Rennie is then able to use his skills as a facilitator to further help his clients maximise the effectiveness of their sales and marketing teams.