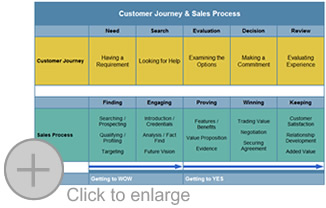 TMS uses a methodology called The Customer Journey to examine the stages that a typical customer moves through as they progress through their buying process. This identification of how customers make buying decisions (How does it happen? What is important? Who is involved?) defines the sales process required to exert influence at each stage in the customer's buying process.
We then help our customers refine their sales strategy and process to deliver the required relationships to targeted customers. This looks at every stage of the Sales Process, from finding customers and engaging with them, to then proving the appropriate features and benefits, through to winning and - crucially - keeping customers. We can also help with further support on developing the necessary skills and behaviour patterns.
To find out more please call us on 0845 201 1618 or email us here.